When you are on your own and cooking for yourself from the very beginning, you can realize that instant ramen cannot help. You need nourishment too to ensure that your day is spent well while studying, going to class, part-time job, etc. so, here are some of the most amazing recipes which you can make in your student accommodation. These are some of the best recipes that are made with few ingredients and no fancy cooking methods.
Rice and beans: If you want to have the most comforting meal, then rice and bean it is. It is one of the oldest meals and easy student recipes which you can make any time at your home. This combo is popular even today and all that this meal takes is rice and beans. The beans can be bought too in the packed form in a tin can packages. You can stir this for around 5 minutes and it is ready to eat. Take a wok, and add some preferred oil. Then you can add some onion, and cook until golden brown. Then you can add some boiled beans, tomatoes, oregano, salt, and garlic powder. Once boiled, you can mix it in rice and eat it.
Ground turkey tacos: Another amazing food that you can cook at home is ground turkey tacos. Everything other than the garnishes is cooked in one skillet. Onions are sautéed until translucent, then the ground turkey is added to the mix. You can add some chili powder, tomato paste, and chicken broth. Once it is cooked, the turkey is spooned into the taco shells and topped up with some lettuce, tomato, and cheese.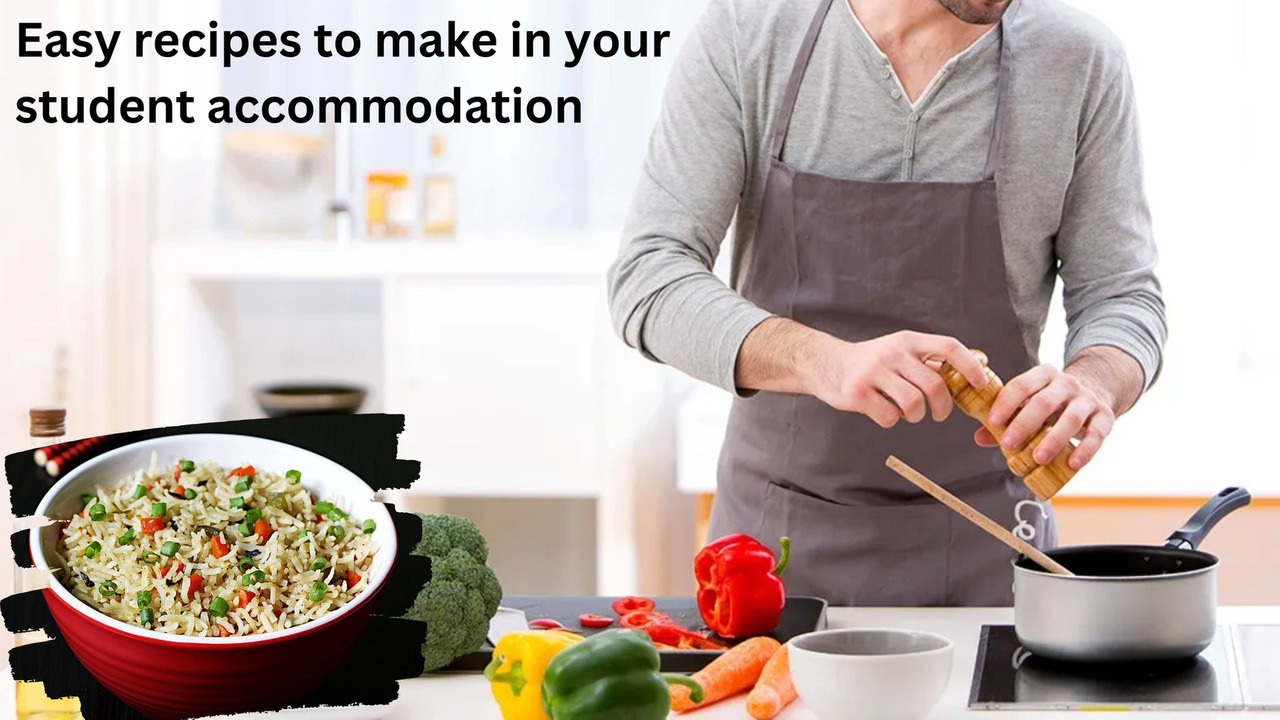 Avocado sandwich: Sandwiches are a savior for any student. As a college kid with limited time and money, it can be difficult to include fresh, healthy ingredients in meals. This easy and simple sandwich comprises fresh tomatoes, avocadoes, and provolone cheese drizzled in balsamic vinegar. These are sandwiched between the bread slices. You can easily make this at student accommodation Munster.
Fried rice: If rice is your thing, then you can make fried rice any time. In fried rice, you can add different flavors of veggies, soy sauce, garlic, chilies, and onions. You can keep leftover rice in your refrigerator, which you can use the next day. Then you can toss that rice in a wok with some veggies and sauces. To enhance the flavor, you can add some eggs, chicken slices, tofu, etc.
Pancakes: Pancakes are quite popular dishes. While doing so, you can learn a wide range of skills. All you need is some plain flour, two large eggs, milk as well as vegetable oil. If you want, you can add some caster sugar or maple syrup as toppings. To make pancakes, add 100 grams of plain flour, 300 ml milk, two large eggs, 1 tbsp vegetable oil, and some salt in a bowl. Take a medium frying pan and grease the pan with some oil. All you have to do is add your favorite topping, sit back, and have a delicious dish of pancakes.